Bring out your wild side with animal print catsuits!
Animal print has never been more popular, and here at Wholesale dance we have a wide range of options to suit any occasion! From traditional leopard print catsuits, to vibrantly coloured snow cat prints – there'll be a catsuit to catch your eye. Manufactured by the popular dance brand Show Wear they deliver on both style and quality.
The Animal Print Catsuit Range
Our animal print catsuits are often used for dance shows to provide an eye catching onstage outfit, and are available in a range of sizes to suit all ages. Our animal catsuits vary between designs with open backs, closed backs and high necks available. In addition to show wear, these catsuits have become an increasingly popular costume for fancy dress, or drama productions and are incredibly versatile pieces. We stock tiger, snowcat, zebra, snake and leopard print catsuits and offer fast delivery throughout the UK (we also deliver in Europe and other international destinations). In addition to our animal print catsuits we also stock an extensive range of catsuits and dance leotards. Our selection includes, plain, foil, brightly coloured and contrast dance leotards, to suit ballet, tap, character and jazz dancing. We offer a very successful teachers discount program if you're buying for a dance school in large amounts – please take a look at our registration page for more information.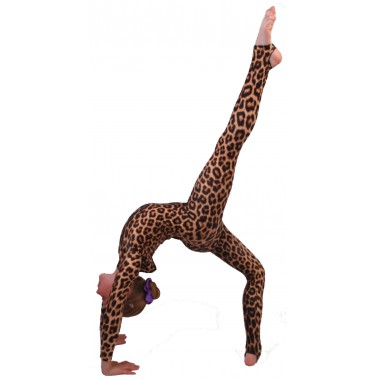 Wholesale dance have been supplying exceptional quality dancewear since 1989 and is now one of the premier dancewear suppliers in the UK, along with our online store, we also specialise in producing individual leotards with our in house manufacturing – providing tailor made dance solutions for your needs - this is especially popular for dance school uniforms.
Contact Wholesale Dance for Animal Print Catsuits:
If you would like to find out more about our animal print catsuits or any other of our products then please get in touch with our expert team who are eager to help!