Leotards, Crop Tops, Catsuits | Dance Crop Tops
Showing 0-24 of 34 Results
Here at Wholesale Dance we stock a wide array of dance crop tops to suit all of your dancing pursuits. Whether you're looking for one of our foil one shoulder dance crop tops for a performance, or plain dance crop tops to practice, we have something for you! Our dance crop tops are from the renowned Dance Designs company and combine high quality with fashionable designs. Browse our range of dance crop tops which includes lycra, cotton, meryl and Italian crushed velvet options.
Please fill in your email address below to receive the latest news and offers on ballet shoes, dance leotards, gym leotards and more!
Wholesale Dance was established in 1989 and has evolved into one of the premier UK dancewear suppliers. As a major distributor and manufacturer of dancewear we pride ourselves in the wide range of choice we offer, with products ranging from dance leotards and catsuite to ballet and tap dance shoes, for all ages and sizes and in an array of stylish dance designs.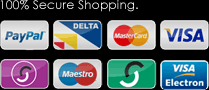 21 Day Money Back Guarantee
Easy Returns Policy