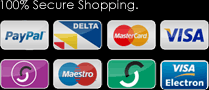 21 Day Money Back Guarantee
Easy Returns Policy
Please fill in your email address below to receive the latest news and offers on ballet shoes, dance leotards, gym leotards and more!
Wholesaledance was established in 1989 and has evolved into one of the premier UK dancewear suppliers. In addition to being a major distributor of leading dancewear brands we have our own manufacturing facilties in our modern high tech factory based in the North West of England and have particular expertise in supplying school shows.